Vintage bikes at the Museum of Copenhagen
Copenhagen, 1900. The old embankments disappear and City Hall Square is built. The gateway to a new world and a new era, heralded by the electric clockwork in the tower. Electric street lamps and signs cast their sheen on the city at night. Modern Copenhagen is full of crowds and traffic, of bicycles, rattling trams  and horse-drawn vehicles. Cafes and hotels are the new city meeting places. Fora farthing people can connect with the outside world from the new telephone kiosks.
Cyclists suddenly take over the city and City Hall Square. The 'safety' bicycle is invented in 1885, and is much easier to mount and dismount than the penny-farthing.  From the 1890s the number of cycles for both men and women in the city explodes.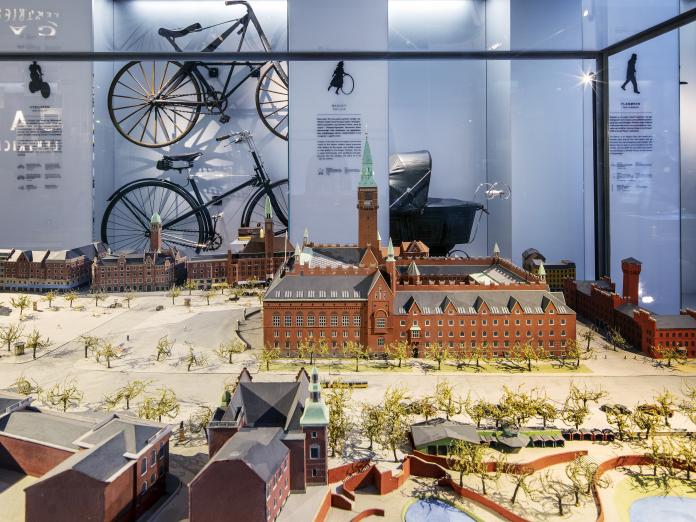 Photographer
Museum of Copenhagen
In the exhibition room City Hall Square at the Museum of Copenhagen, you can see a number of bicycle-related things:
Dursley-Pedersen bicycle
The cycle was invented by the Dane Mikael Pedersen, but was made in the English town of Dursley. This wooden model is one of two and shows the strength of the bike construction. 1897-1899
Bicycle with cushion ring
Invented in England, a cushion ring is a rubber cycle tyre with an air channel inside. c. 1889
Bicycle accessories
Bicycle lamp for candle, saddlebag and puncture kit. 1900
Touchscreen with photos and film clips
On a touch screen in the room City Hall Square you can see s/h photos and old film clips of cyclists in the Danish capital's streets and alleys.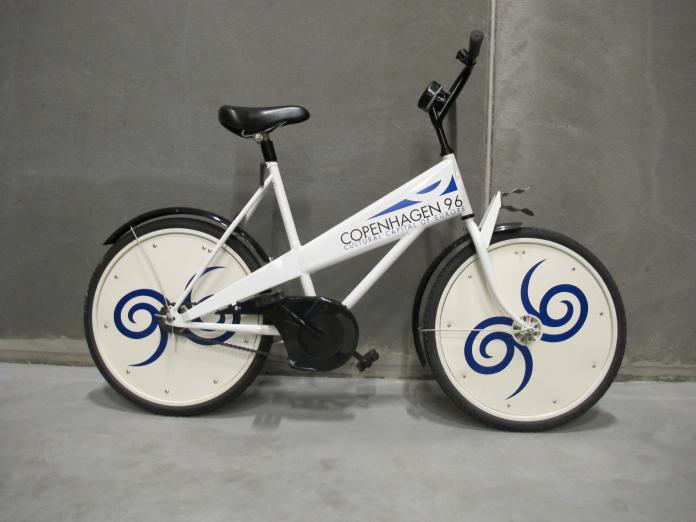 Photographer
Museum of Copenhagen
Extra: See one of the world's first city bikes in the special exhibition "Time Capsules – Copenhagen in the 1990s" (until October 31st 2022):
Copenhagen '96 – Free City Bikes
Copenhagen was one of the first cities in the world to launch free city bikes for the public. A 20 DKK returnable coin unlocked the bikes. They were run by the city council, but partly financed by advertisements for supermarkets, newspapers – and Copenhagen '96. The bikes could only be used in Inner Copenhagen. The video on the other side of the bike rack show how quickly that boundary was crossed